Aesthetics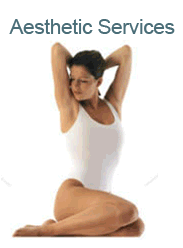 Hair Removal
The Cutera hair removal systems deliver a specially tailored light energy source for permanent hair reduction for a wide range of skin types. The regimen may require 6-8 treatments, depending upon hair thickness, the area treated, and your hair's growth cycle. Areas that can be treated are face, legs, arms, underarms, back, chest, nipples, bikini line, and stomach.
Electrolysis
For patients who are not candidates for laser therapy and for small amounts of residual hair following laser therapy, electrolysis is a permanent hair removal solution.
Spider Vein Therapy
The Cutera CoolGlide laser wavelength treats a broad range of vessels on legs and very small veins on the face and chest for most skin tones. 2-3 treatments are generally sufficient, however, the number of treatments depends on the number, color, and size of the vessels being treated.
Skin Rejuvenation
Every person ages at a different rate and in different ways. Some develop redness, age or sun spots. Others have large pores, fine lines, wrinkles or lax skin. We can tailor your therapy to suit your specific problem.
Limelight Facial Photogenesis addresses the problems at the skin's surface – redness, mottled complexions, freckles and sun damage.
Laser Genesis uses a laser to soften fine lines and wrinkles, shrink pores and decrease or eliminate redness found deeper in the epidermis. It has been proven to stimulate the creation of new collagen, giving your face a more youthful appearance and is effective in the treatment of acne and acne scarring
Treatment of Nail Fungus for hands and feet using the Genesis handpiece requires two visits approximately 2-3 months apart.
Pellevé® RF Wrinkle Reduction
The Pellevé RF Wrinkle Reduction treatment tightens skin and reduces facial wrinkles for a younger, more refreshed look. Patients who have had a Pellevé treatment say it feels like a warm facial massage. It safely creates a heated treatment zone to induce collagen contraction in facial skin without damaging the epidermis to tighten skin and reduce wrinkles with a noticeable improvement in skin quality and appearance. The handpieces are designed to deliver precise treatment to all areas of the face, including the delicate areas around the eyes, allowing customizable treatments for each patient. Click below to view video.
PelleFirm® RF Body Treatment
The PelleFirm Body Treatment deeply heats and massages tissue to temporarily reduce the appearance of cellulite, increasing blood circulation and simulating the feeling of a warm massage. PelleFirm can be administered on all skin types and is an effective way to deliver visible results without pain or downtime.
Pearl (Week-End Peel)
The Pearl procedure combines the impact of resurfacing lasers with the gentleness and safety of non-invasive procedures to treat aging and sun-damaged skin. Pearl reduces wrinkles, uneven texture, and solar damage with fewer treatments and less overall recovery than other technologies to provide a healthy glow to your skin.
Click here to print forms to complete prior to your visit and evaluate your skin type.
Brow and Lash Tinting - Using a semi-permanent hair color specifically formulated for the brows and lashes, tinting darkens fair eyelashes and eyebrows, covers gray hairs, matches eyebrows and lashes to hair color, and emphasizes lashes and brows without makeup. Brow and lash dye is not the same as hair dye.
Facials
Therapeutic facial is a relaxing, cleansing facial using products customized to your skincare needs. Includes arm and hand massage.
Complete facial enhances your Therapeutic facial with extractions, neck, and shoulder massage.
Therapeutic Back "Facial" is a therapeutic application of products designed to improve the appearance and tone of the skin, relax the back and includes deep cleansing, exfoliation and extractions.
Derma Plane - A highly effective physical exfoliation procedure, removing the top-most layer of dead skin along with fine, vellus hair (peach fuzz).
Chemical Peel - Application of a solution to smooth the texture of the skin by removing the damaged outer layers.