Aesthetics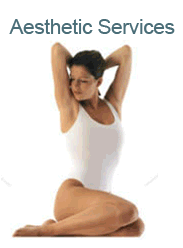 Hair Removal
The Cutera hair removal systems deliver a specially tailored light energy source for permanent hair reduction for a wide range of skin types. The regimen may require 6-8 treatments, depending upon hair thickness, the area treated, and your hair's growth cycle. Areas that can be treated are face, legs, arms, underarms, back, chest, nipples, bikini line, and stomach.
Electrolysis
For patients who are not candidates for laser therapy and for small amounts of residual hair following laser therapy, electrolysis is a permanent hair removal solution.
Spider Vein Therapy
The Cutera CoolGlide laser wavelength treats a broad range of vessels on legs and very small veins on the face and chest for most skin tones. 2-3 treatments are generally sufficient, however, the number of treatments depends on the number, color, and size of the vessels being treated.
Skin Rejuvenation
Every person ages at a different rate and in different ways. Some develop redness, age or sun spots. Others have large pores, fine lines, wrinkles or lax skin. We can tailor your therapy to suit your specific problem.
Limelight Facial Photogenesis addresses the problems at the skin's surface – redness, mottled complexions, freckles and sun damage.
Laser Genesis uses a laser to soften fine lines and wrinkles, shrink pores and decrease or eliminate redness found deeper in the epidermis. It has been proven to stimulate the creation of new collagen, giving your face a more youthful appearance and is effective in the treatment of acne and acne scarring
Treatment of Nail Fungus for hands and feet using the Genesis handpiece requires two visits approximately 2-3 months apart.
Pellevé® RF Wrinkle Reduction
The Pellevé RF Wrinkle Reduction treatment tightens skin and reduces facial wrinkles for a younger, more refreshed look. Patients who have had a Pellevé treatment say it feels like a warm facial massage. It safely creates a heated treatment zone to induce collagen contraction in facial skin without damaging the epidermis to tighten skin and reduce wrinkles with a noticeable improvement in skin quality and appearance. The handpieces are designed to deliver precise treatment to all areas of the face, including the delicate areas around the eyes, allowing customizable treatments for each patient. Click below to view video.
PelleFirm® RF Body Treatment
The PelleFirm Body Treatment deeply heats and massages tissue to temporarily reduce the appearance of cellulite, increasing blood circulation and simulating the feeling of a warm massage. PelleFirm can be administered on all skin types and is an effective way to deliver visible results without pain or downtime.
Pearl (Week-End Peel)
The Pearl procedure combines the impact of resurfacing lasers with the gentleness and safety of non-invasive procedures to treat aging and sun-damaged skin. Pearl reduces wrinkles, uneven texture, and solar damage with fewer treatments and less overall recovery than other technologies to provide a healthy glow to your skin.
Click here to print forms to complete prior to your visit and evaluate your skin type.
SculpSure® Body Contouring
SculpSure non-surgical body contouring helps you achieve a natural-looking, slimmer appearance in problem areas such as the belly, love handles, back and thighs with a treatment plan that is customized for your desired results. SculpSure is ideal for people with stubborn areas of fat, particularly those that seem resistant to diet and exercise. There is no recovery period or downtime with SculpSure, so you can return to normal activities immediately following the treatment. Patients may begin to see results as early as 6 weeks following treatment as the body begins to evacuate the destroyed fat cells, with optimal results usually seen at 12 weeks.
BOTOX and Dermal Fillers
BOTOX Cosmetic is the first and only FDA-approved product to temporarily improve both moderate to severe frown lines between brows and crow's fee lines around the sides of the eyes. Often called a lunchtime procedure, the treatment is a quick, 10-minute procedure that requires no downtime or recovery. It is administered by an experienced injector and you should not lose the ability to show expressions.
Dermal Fillers can add volume and fullness to the skin to correct moderate to severe facial wrinkles and folds, such as the lines from your nose to the corners of your mouth and gives immediate, natural-looking results with just one treatment.
For at least one week prior to your appointment for BOTOX and/or dermal fillers, do not take
Vitamins (D&E)
Fish oil
Anti-inflammatory medications
Red Wine
Aspirin
Eyebrow Microblading
Microblading defines, covers gaps, fills in or fully reconstructs over-tweezed or thinning brows. Using this technique, fine deposits of cosmetic tattoo pigments are applied with a blade-like tool to create the look of actual strands of hair, giving you fuller and more natural-looking brows. This is a semi-permanent application that can last up to 3 years before being touched up.
Facials
Therapeutic-relaxing, cleansing facial using products customized to your skincare needs. Includes arm and hand massage.
Complete facial enhances your Therapeutic facial with extractions, neck, and shoulder massage.
Therapeutic Back "Facial" is a therapeutic application of products designed to improve the appearance and tone of the skin, relax the back and includes deep cleansing, exfoliation and extractions.
Derma Plane - A highly effective physical exfoliation procedure, removing the top-most layer of dead skin along with fine, vellus hair (peach fuzz).
Chemical Peel - Application of a solution to smooth the texture of the skin by removing the damaged outer layers.
Skin Care Products
Obagi Skin Care products
Visha Skincare

Bump to Baby Cream to inhibit the development of stretch marks during pregnancy. This cream may also be used on the baby to prevent/treat eczema.